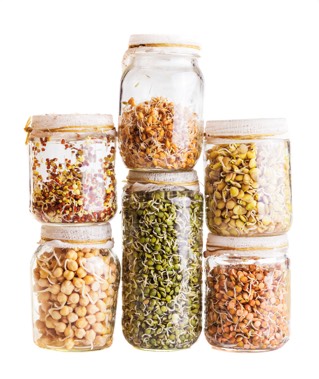 For our private label frozen pizza clients whose products serve health-oriented consumers of natural foods, we offer our expertise in producing great tasting pizzas made with sprouted grains.
Why sprouted grains? When we produce foods made with sprouted grains, we offer the consumer additional health benefits that include:
Higher fiber content

Increased bioavailability of vitamins, nutrients and antioxidants

Lower Glycemic Index (helpful for people managing diabetes)

Easier to Digest
If you think that sprouted grain products will only appeal to the ultra-healthy, think again. Better For You Foods created the first store-bought frozen pizzas made with sprouted grains with the launch of our Ultra Thin Crust Sprouted Grain Pizzas —and natural food consumers of all shapes and sizes love these products. Of course, it doesn't hurt when you make them with zesty, flavorful toppings either.
Our original line of sprouted grain pizzas caught the attention of consumers with their unique Bruschetta Style, Mediterranean and Old World Veggie toppings. For the customer who enjoys the Old World Veggie-topped pizza, their focus is on the harmonious flavors of mozzarella and feta cheeses, tomatoes, spinach, onion, garlic and diced red peppers above the fact that they're eating a pizza with 39 grams of fiber per serving!
Our private label frozen pizza partners are afforded additional opportunities for developing sprouted grain pizzas that serve other thriving market segments as well. One option includes pizzas made with our naturally gluten free sprouted grain flour blend — made with sprouted brown rice flour, sprouted millet flour, sprouted quinoa flour and sprouted chia. A perfect pizza option for health-conscious consumers of gluten free natural foods!
Most recently, we've begun offering private label partners the ability to develop foods along our new line of USDA Certified Organic Pizzas made with sprouted ancient grains. From top to bottom, every ingredient meets the standards of certified organic and offers the unique, hearty flavors of sprouted ancient grains. In a marketplace where health-oriented shoppers of natural foods need products that also serve their busy lifestyles, these products are surefire winners.