05 Oct

October is Non-GMO Month!

As a company committed to providing consumers with better for you foods, we believe strongly in the importance satisfying the consumer need for foods made with Non-GMO ingredients. That's why we're proud to raise awareness for Non-GMO month in October!

Each year, the number of products made with GMOs ("a plant, animal, microorganism, or other organism whose genetic makeup has been modified" – Non-GMO Project's definition), continues to grow. The idea behind the movement of Non-GMO month is that we stand together – consumers, retailers and industry partners – to let it be known that people deserve clear labeling of food ingredients with regard to those that are genetically modified and those that are not.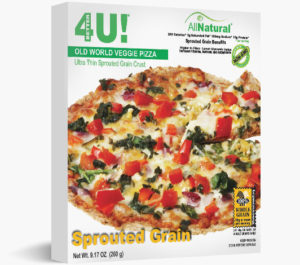 As consumers of Better4U Foods can attest, our product packaging is clearly labeled concerning the inclusion of Non-GMO ingredients. Dating back to the introduction of our line of All Natural Ultra Thin Sprouted Grain Crust Pizzas, the Non-GMO logo began being proudly displayed on Bett4U product packaging.
To further satisfy the consumer desire for products made with Non-GMO ingredients, the next line of pizzas we introduced featured a crust made with sprouted ancient grains. Ancient grains refer to those grains that exist in the same form as they have for millennia, and the ancient grains flour blend we use for these pizzas includes sprouted brown rice flour, sprouted millet flour, sprouted quinoa flour and sprouted chia. Of course the toppings are also made of Non-GMO ingredients, including the Uncured Pepperoni Pizza, which consists of no nitrites or nitrates added, except those naturally occurring in sea salt and celery juice powder.
Earlier this year, Better4U Foods took another step toward satisfying health-oriented consumers seeking trustworthy all natural products made with Non-GMO ingredients. We introduced our newest line of savory pizzas – Organic Ancient Grains Pizzas. The ingredients in these pizzas are not only Non-GMO, they are USDA Certified Organic. These pizzas are made with organic tomato sauce, organic herbs and spices, hormone-free cheese and delicious organic toppings that include BBQ Chicken and All Beef Pepperoni.
At Better For You Foods LLC, our commitment to Non-GMO ingredients goes beyond what we put in our own branded products; we offer the same high quality product development for our private label partners as well. Whether we're developing products made with ancient grains, sprouted grains, gluten-free flours or USDA Certified Organic ingredients, industry partners seeking to serve the needs of health-oriented natural consumers can depend upon us!
If your company is looking to for a private label partner, contact Amy Lotker (owner).