31 Jul

Making the most of Summer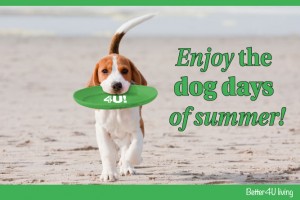 With summer in full swing, there's never a better time to get out and be active. Do it for yourself, your family and your pets – everyone needs physical activity to be their optimal self! Whether you hit the beach, hike in the mountains, walk or run in the park, you're body will thank you.
Remember that good nutrition is as important as being active. Take advantage of seasonal fruits and vegetables indigenous to your part of the country. And, always remember to try new things – whether it's new exercises, new foods or new methods for relaxing and unwinding. Autumn and winter will bring different opportunities, and they'll be here before you know it.  For now, make the very most of Summer 2014!