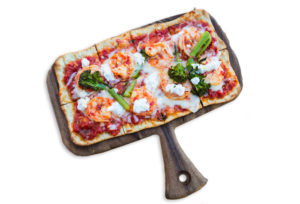 Flatbreads have taken off as a delicious alternative to everyone's favorite party food, pizza. As a result, the market for frozen flat bread consumer products and flat breads for forward-thinking food service offerings is hot! When a trend gains mainstream interest like this, Better For You Foods gets to work with private label partners and starts developing winning products.
Multigrain, whole wheat, wood fired, gluten free, ancient grains and sprouted grain varieties of flat breads are sure to meet the growing consumer demand. Add the right sauce – be it zesty tomato, creamy pesto, mesquite red pepper, Santa Fe, barbecue or another mouthwatering option – and we're well on our way. We may even choose to top it with a blend of hormone free cheeses and a combination of savory toppings – ranging from roasted vegetables to grass fed chicken and beef products.
Let's build a flatbread winner together!