23 Jan

U CHOOSE (Gluten Free or Thin Crust, or Both)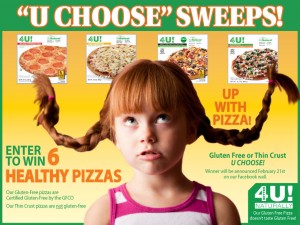 Our first sweepstakes of 2013 features a prize of six all natural healthy delish frozen pizzas, delivered!
As opposed to our previous sweepstakes that focused solely on our gluten-free frozen pizzas, this sweeps offers a choice of varieties from our gluten-free pizza line or our thin crust (non-gluten free) line of pizzas.
Initially, we had some concerns about a U Choose Sweeps because we had some concern that our gluten-free community may think that our gluten-free products could be cross contaminated with wheat.  Anyone who has such concerns will surely appreciate this detailed information we blogged about months ago – Gluten Free Products Clear of Cross Contamination.  Obviously, this is an issue we take seriously and that's why our gluten-free pizzas are prepared in a facility that is Certified Gluten-Free.
So, whether you'd like to win healthy and delish gluten-free pizzas or thin crust pizzas (or a variety of each), this Facebook sweepstakes is for you.  Click here to enter!