20 Jan

Thin Crust Gluten Free Sprouted Ancient Grains Mediterranean Pizza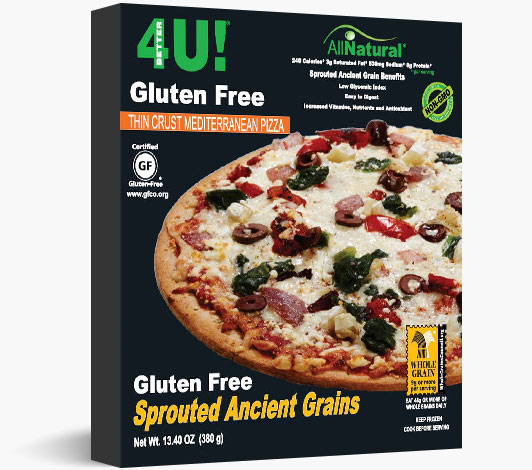 Topped with Roasted Red Peppers, Artichokes, Roasted Red Onions, Kalamata Olives, Spinach, Oregano and Feta
• Multi-Grain Crust
• Calories 240*
• Saturated Fat 3g*
• Sodium 530mg*
• Protein 8g*
*per serving
Adding to the hearty flavor of gluten sprouted ancient grains, this frozen pizza is topped with zesty Mediterranean flavors, including roasted red peppers, artichokes, roasted red onions, Kalamata olives, spinach, oregano and feta cheese. Made with non-GMO ingredients!
All Natural Ingredients: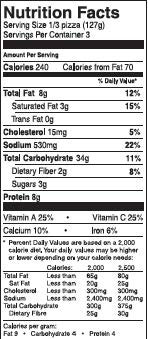 Natural Multi-Grain Crust: Filtered Water, tapioca starch, potato ptarch, sprouted grain flour blend (sprouted brown rice flour, sprouted millet flour, sprouted quinoa flour, sprouted chia), buckwheat flour, white rice flour, potato flakes (monoglcerides, sodium acid pyrophosphate, citric acid), honey, extra virgin olive oil, egg white powder (egg whites, baker yeast, citric acid), modified cellulose gum, flax seed, cultured dextrose, salt, distilled mono- and diglycerides, yeast, sodium bicarbonate.
Natural Sauce: Filtered Water, Diced Tomatoes in Juice (Vine Ripen Tomatoes, Tomato Juice, Salt, Calcium Chloride), Tomato Paste, Extra Virgin Olive Oil, Evaporated Cane Syrup, Salt, Basil, Redwine Vinegar, Roasted Garlic, Spices, Corn Starch, Lemon Juice Concentrate, Xanthan Gum.
Natural Topping:  Cheese blend of Mozzarella, feta and parmesan (pasteurized milk, part skim milk, bacterial culture, salt, calcium chloride, microbial enzyme, lipase, water, lactic acid), Spinach, Artichokes, Red Onion, Red Pepper, Kalamata Olives, Oregano.
Allergen Information: Dairy, Egg.