30 May

Sprouted Grain Mediterranean Pizza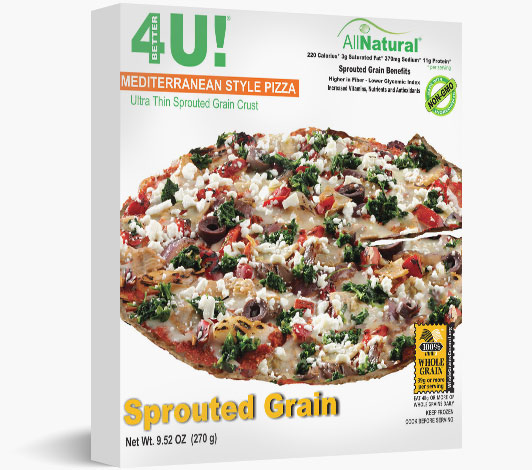 Topped with Spinach, Artichokes, Red Onions, Red Pepper, Kalamata Olives, Oregano and Feta
• Multi-Grain Crust
• Saturated Fat 3g*
• Protein 11g*
• Sodium 370mg*
• Calories 220*
• Trans Fats 0g*
*per serving
Atop this ultra thin sprouted grain pizza crust, a fantastic blend of healthy Mediterranean flavors come alive – spinach, artichokes, red onion, red pepper, Kalamata olives, oregano and feta cheese! All this deliciousness and 39 grams of whole grains in every serving. Made with all natural, non-GMO ingredients.
All Natural Ingredients:
Crust: Whole Grain Whole Wheat Flour, Filtered Water, Whole Grain Flax Seed, Extra Virgin Olive Oil, Sunflower Oil, Salt, Cultured Dextrose, Sprouted Whole Grain Flax, Sprouted Whole Grain Wheat, Whole Grain Barley Flour, Whole Grain Oat Flour, Wheat Germ, Evaporated Cane Syrup, Sodium Bicarbonate,Yeast.
Natural Red Sauce: Filtered Water, Diced Tomatoes In Juice (Vine Ripened Tomatoes, Tomato Juice, Salt, Calcium Chloride), Tomato Paste, Olive Oil, Evaporated Cane Syrup, Salt, Basil, Redwine Vinegar, Roasted Garlic, Spices, Corn Starch, Lemon Juice Concentrate, Xanthan Gum.
Natural Toppings: Cheese Blend of Mozzarella, Feta and Parmesan (Pasteurized Partly Skimmed Milk, Bacterial Culture, Salt, Calcium Chloride, Microbial Enzymes, Lipase, Water, Lactic Acid). Spinach, Artichokes, Red Onion, Red Pepper, Kalamata Olives, Oregano.