24 Nov

Personal Size Gluten Free Roasted Vegetable Pizza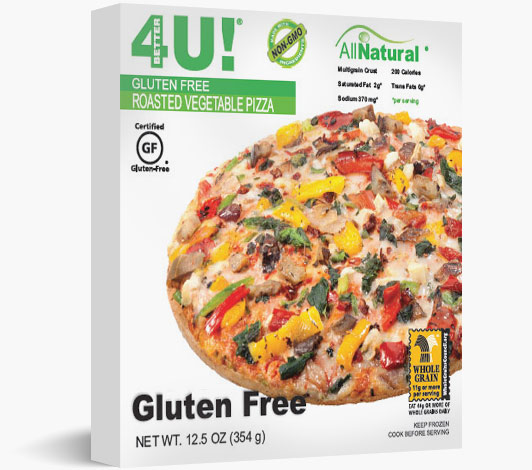 Roasted Red and Yellow Peppers, Roasted Eggplant, Roasted Red Onion, Spinach, Roasted Artichokes, Sun-Dried Tomato and Mozzarella Cheese
• Multi-Grain Crust
• Calories 200*
• Saturated Fat 2g*
• Trans Fats  0g*
• Sodium 370mg*
*per serving
Personal size – 2 servings per pizza! Roasted veggie lovers may choose not to share this delicious and nutritious pizza topped with roasted red and yellow peppers, roasted eggplant, roasted onion, spinach, roasted artichokes, sun-dried tomato and hormone-free mozzarella cheese. That's a personal sized mouth full!
All Natural Ingredients: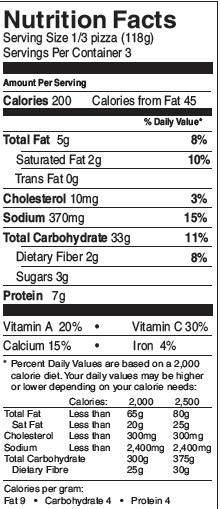 Natural Multi-Grain Crust: Filtered Water,  White Rice Flour, Potato Starch, Buckwheat Flour, Extra Virgin Olive Oil, Brown Rice Flour, Cultured Dextrose, Fine Milled Ground Flax, Yeast, Evaporated Cane Syrup, Salt, Modified Cellulose, Flax Seed, Distilled Mono- and Diglycerides.
Natural Red Sauce: Filtered Water, Diced Tomatoes in Juice (Vine Ripened Tomatoes, Tomato Juice, Salt, Calcium Chloride), Tomato Paste, Olive Oil, Evaporated Cane Syrup, Salt, Basil, Redwine Vinegar, Roasted Garlic, Spices, Corn Starch, Lemon Juice Concentrate, Xanthan Gum.
Natural Toppings:   Mozzarella Cheese: (Pasteurized Part Skim Milk, Bacterial Culture, Salt, Calcium Chloride, Microbial Enzyme), Roasted Red Peppers, Roasted Yellow Peppers, Roasted Red Onion, Spinach, Roasted Eggplant, Artichokes, Sun-Dried Tomato.