24 Nov

Personal Size Gluten Free Four Cheese Pizza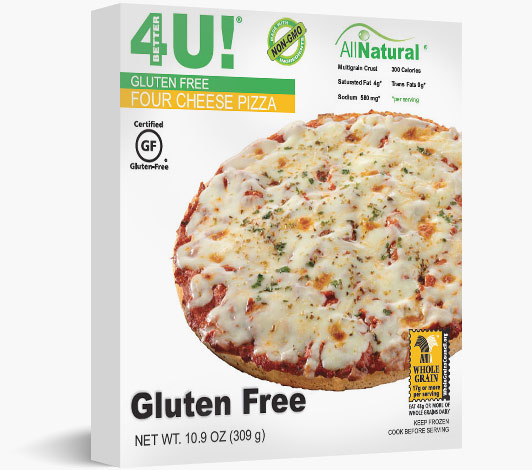 Mozzarella, Provolone, Asiago, and Parmesan Cheese Blend, Oregano and Parsley
• Multi-Grain Crust
• Calories 300*
• Saturated Fat 4g*
• Trans Fats 0g*
• Sodium 580mg*
*per serving
Personal size – 2 servings per pizza! Sharing is optional as you dig into this personal sized version of our Four Cheese Gluten Free Pizza. Sink your teeth into a hearty, thicker gluten free crust made with high quality natural ingredients – such as buckwheat flour, extra virgin olive oil, brown rice flour and milled ground flax. The four cheese topping consists of a tasty blend of mozzarella, provolone, Asiago and Parmesan hormone-free cheeses.
All Natural Ingredients: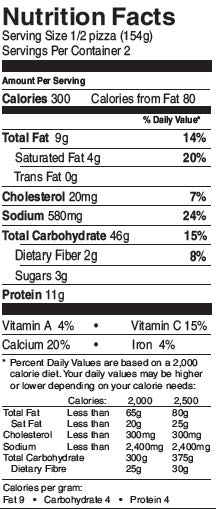 Natural Multi-Grain Crust: Filtered Water, White Rice Flour, Potato Starch, Buckwheat Flour, Extra Virgin Olive Oil, Brown Rice Flour, Cultured Dextrose, Fine Milled Ground Flax Seed, Yeast, Evaporated Cane Syrup, Salt, Modified Cellulose, Flax Seed, Distilled Mono- and Diglycerides.
Natural Red Sauce: Filtered Water, Diced Tomatoes in Juice, (Vine Ripened Tomatoes, Tomato Juice, Salt, Calcium Chloride), Tomato Paste, Olive Oil, Evaporated Cane Syrup, Salt, Basil, Redwine Vinegar, Roasted Garlic, Spices, Corn Starch, Lemon Juice Concentrate, Xanthan Gum.
Natural Toppings: Cheese Blend of Mozzarella, Provolone, Asiago, Parmesan Cheeses: (Pasteurized Milk, Part Skim Milk, Modified Milk Ingredients, Bacterial Culture, Salt, Calcium Chloride, Microbial Enzyme, Lipase), Oregano, Parsley.