30 May

Old World Veggie Thin Crust Pizza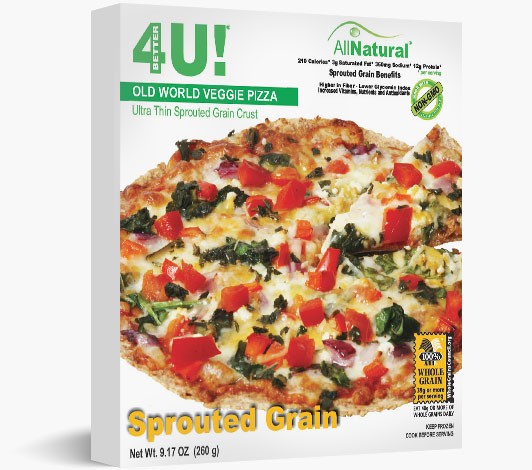 Mozzarella, Feta Cheese, Tomatoes, Spinach, Onion, Garlic, Diced Red Peppers, Oregano
• Multi-Grain Crust
• Saturated Fat 3g*
• Protein 12g*
• Sodium 360mg*
• Calories 210*
• Trans Fats 0g*
*per serving
The only thing better than an ultra thin crust pizza made with sprouted grains, is one made with old world veggies. This one is topped with mozzarella, feta cheese, tomatoes, spinach, onion, garlic, diced red peppers and oregano. This is how they did it in the old world! Made with all natural, non-GMO ingredients.
All Natural Ingredients: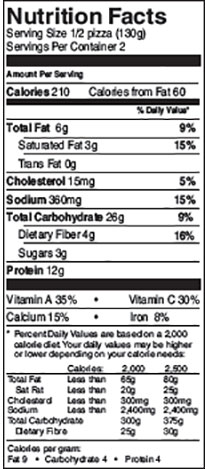 Crust: Whole Grain Whole Wheat Flour, Filtered Water, Whole Grain Flax Seed, Extra Virgin Olive Oil, Sunflower Oil, Salt, Cultured Dextrose, Sprouted Whole Grain Flax, Sprouted Whole Grain Wheat, Whole Grain Barley Flour, Whole Grain Oat Flour, Wheat Germ, Evaporated Cane Syrup, Sodium Bicarbonate,Yeast.
Natural Red Sauce: Filtered Water, Diced Tomatoes In Juice (Vine Ripened Tomatoes, Tomato Juice, Salt, Calcium Chloride), Tomato Paste, Olive Oil, Evaporated Cane Syrup, Salt, Basil, Redwine Vinegar, Roasted Garlic, Spices, Corn Starch, Lemon Juice Concentrate, Xanthan Gum.
Natural Toppings: Cheese Blend of Mozzarella, Feta and Parmesan Cheeses (Pasteurized Part Skim Milk, Cheese Cultures, Salt, Enzymes, Calcium Chloride, Colour [No Rennet Used]), Diced Tomatoes, Spinach, Onions, Roasted Garlic, Diced Red Peppers, Oregano, Rosemary, Thyme.