06 May

Jason Schembri – Better4U! Product Development Specialist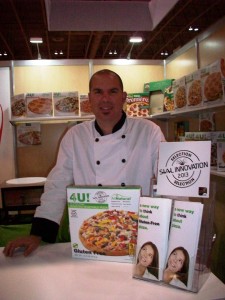 Recognizing Those Who Contribute To Our Success – It's the Better4U Way!
Introducing Jason Schembri, our very busy Product Development Specialist.

My biggest career challenge occurred when the Lotker Family asked me to develop the very gluten-free pizza crust that is now used in all Better4U Foods gluten-free pizza products.  In all honesty, I wasn't 100% sure that I could do it, or that it could be done.  Every gluten-free pizza crust I tasted up until that point tasted like cardboard.
Natural ingredients have always been important to me, whether it's within the products I develop or the food I prepare for my family.  Yes, "You are what you eat" is a cliché, but it's also as true a statement as there is.
Pizza is a large part of who I am.  My family roots are from Malta and I've always taken pride in my ability to create a delicious red sauce, with hints of roasted garlic, olive oil and fresh basil, blended with diced tomatoes of course.
Sourcing quality fresh ingredients is an important part of my job.  I frequently attend food manufacturing shows and work hard to source suppliers who can meet our high standards.
I envision our customers and it makes me feel good to know that I play a role in providing them with the extraordinary quality of food they're paying for.
It's interesting that there many people who think of natural ingredients as something new.  Civilizations have always consumed natural ingredients, until the last 90 to 100 years, when artificial preservatives suddenly became valued for their ability to provide a longer shelf life (keeping mold and bacteria growth under control).  It's not a great trade off in my opinion.
I learned to cook while working in my family's catering business for twelve years.  My college education taught me about the business side of food, as I graduated with a degree in Hotel and Restaurant Management.
A cooking dream fulfilled is how I describe my "chance of a lifetime" opportunity to work for the Walt Disney World Corporation in Orlando, FL.  Back in the early 1990's, I spent one year representing my home country of Canada at Epcot's Canadian Pavillion.  As luck would have it, a stronger career opportunity caused me to end my stint in Florida and move back up north.
Aside from pizza, my favorite foods are fresh fish, broccoli, spinach and pretty much anything that is considered to be Italian cuisine.
I'm a locavore.  I support local farmers when buying food for my family and when possible, at the plant as well.
My family is most important to me.  I spend much of my "free" time coaching baseball for both of my sons' teams, which includes quite a bit of travel.  I wouldn't trade these special times with them for anything in the world.  And I'll take a small amount of credit for their athleticism, since I'm the one who's been preparing nutritious meals for them since birth!