18 Sep

Get Converted Sweepstakes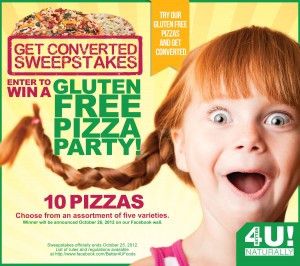 September 13th marked National Celiac Disease Awareness Day, and we thought, what better way to acknowledge it than to throw a gluten free pizza party?  So we launched a our GET CONVERTED sweepstakes.
"Get Converted" you ask?  The phrase has a handful of meanings here at Better4U Foods.  Primarily, if you've never had gluten free pizza that actually tastes great, then it's time to get converted.  Though, for some, the reference is broader.  Meaning, if you haven't had high quality, convenient and tasty frozen food that contains healthy amounts of sodium, fat, fiber and calories − then it's time to Get Converted!
Sweepstakes winner will have their choice of varieties and receive 10 delicious Gluten Free Pizzas.  Enter here http://ht.ly/dHiEu.