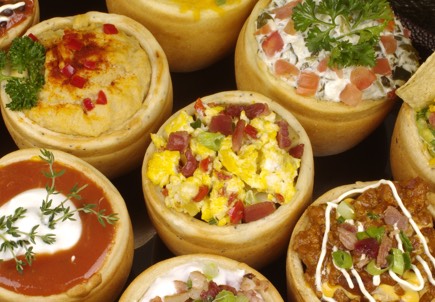 Bread bowls are among the more exciting and promising baked products offered by our company today. Among the commercial possibilities for new bread bowls products include:
Frozen consumer products (filled or unfilled)
Innovative food service applications (serve with egg scrambles, omelettes or stew)
A component of in-store deli programs (serve chili or soup in a bread bowl!)
It's easy to get carried away with bread bowl fillings, but the options are also endless for what goes into the making of a bread bowl. Bread Bowl shells can be made with ancient grains, sprouted grains and a variety of USDA Certified Organic ingredients.
The first consumer offerings produced included four varieties of bread bowl shells: Multi-grain, wheat, poppy seed & onion, and cornmeal & jalapeno. Retailers and consumers have reacted to these products with great enthusiasm. Let's get working on a bread bowl project for your brand! 
Aside from being fun and delicious, every time someone serves a bread bowl, it's one less dish to clean!"

— Jack Lotker, Founder, Better For You Foods LLC